She is a French musician who left for Peru in 2004 to follow the spiritual teaching of plants. She has worked with Francisco at Sachamama and also with other shamans to receive the teachings of the tobacco plant.
After four years of apprenticeship, her spiritual path has lead her to the celestial realms, from which she has received her healing abilities.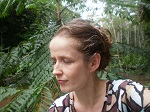 She works at Sachamama with Francisco to guide and help peaple in their spiritual journey.